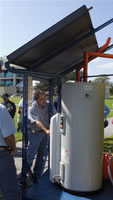 Developed by the Florida Solar Energy Center (FSEC), this calculator provides consumer information on the energy, cost and environmental savings potential of residential solar hot water systems in Florida.

The calculations and assumptions were modeled on the solar system calculator tool (SHW-calculator_simple.xls, 204k) available for Microsoft Excel and developed by FSEC's Deputy Director, Philip Fairey.
To use the calculator, answer basic questions and decide if you would like to change any of the pre-selected assumptions. It also calculates payback costs over time.