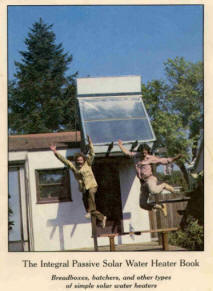 The Integral Passive Solar Water Heater Book, by David Bainbridge, includes:

How to design a passive solar water heater

How to build a passive solar water heater

How to install a passive solar water heater

Examples of many types of designs that would almost any situation

Discussion of potential improvements to the design
David Bainbridge is an Associate Professor of Sustainable Management at the California School of Business and Organizational Studies, Alliant International University.
This is a book on all aspects of designing and building a wide variety of solar batch water heaters with a great mix of how-to and engineering design information -- great for builders and experimenters.
This book is out of print, and difficult to get, but he has agreed to make the full content available as a download at the link below. (8.2MB pdf)
More on David's projects on at the straw bale website.