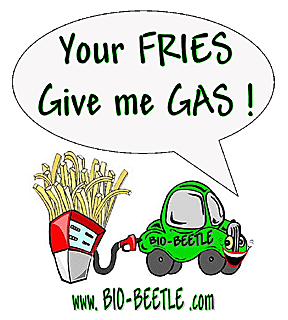 BIO-DIESEL
Rent your eco-fiendly car next time you're in Maui, but not in Tallahassee, at least not yet.

Maui Car rentals offers the Bio Beetle, which runs entirely on biodiesel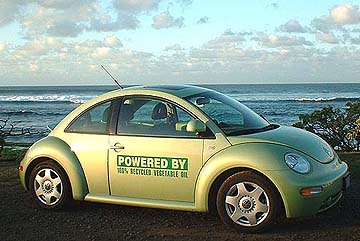 fuel. Plus, it's so cute!
Available at the Maui Airport (Kahului) and at LAX (Los Angeles). Rental cars available include the VW Beetle, Golf, Jetta, and Passat. In Maui, the Jeep is also available. Interestingly, they also offer a line of rental cars for people with chemical sensitivities.
From time to time, they also offer cars for sale that run on bio-diesel.

EV Rental Cars was the first rental company in the continental US with its entire fleet made of hybrids. They offer the Honda Civic, Toyota Prius and Toyota Highlander hybrids in Los Angeles and other California cities, Phoenix and Las Vegas.

In London? Your can rent a Prius for the same price as other vehicles at the Green Tomato Cars and get the private car-for-hire company to plant a tree on your behalf, as well. Too bad the US dollar exchange rate is so bad right now!


You can also rent an electric vehicle, at Future Vehicles in the UK, an option not found right now at the major US car rental companies. This Maranello4 car may be even cuter than the bio-Beetle!


Or, this Elettrica runs on lithium batteries and gets the drivers a free park in many parts of London.